Latest Publication:
Jane Pettigrew's World of Tea, by Jane Pettigrew
All around the world, there is a growing interest in specialty teas. Just as wine lovers want to learn more about wine producing regions of the world, so tea lovers are seeking out similar information. Jane Pettigrew's World of Tea explores more than 60 tea-producing countries, explaining their history, terroir, variety of cultivars, manufacturing processes, types, local tea culture, and rituals. Featuring detailed maps and beautiful full color photography on every page, Jane Pettigrew's World of Tea is the only guide to tea you'll ever need.
Awarded 'BEST NEW PRODUCT, Publications and Books Category', at World Tea Expo 2018
UK Tea Academy:
Jane is now Director of Studies of the new UK Tea Academy. For more information and to book Masterclasses please visit: www.ukteaacademy.co.uk
Comments from some of those who have attended a masterclass:
"We would like to thank you and Tim for the excellent class on Saturday. Such a relaxed attitude, perfect timing and an absolutely thrilling experience. I would certainly recommend your course to anyone."
"Thank you for delivering such a terrific Masterclass - it was a perfect balance between theoretical and the practical and it was beautifully rounded off by a sumptuous afternoon tea."
"I enjoyed the class so much. I was impressed with how much information you pack into such a short time and yet it's so much fun."
Latest Video
Jane's Books
Jane has written 17 books on the many and varied aspects of tea, its production, history and culture, and she writes for tea related magazines and journals.

Her 'Tea Lover's Companion' is now out of print but a brand new edition is available with the title 'Tea Classified' . This has updated information, lots of new photos and, in the directory, new information and new photos of teas from tea regions not included in previous editions - Vietnam, Korea, Bolivia, Bangladesh, Brazil, Thailand, the UK and the USA. This is the ideal book for all new tea lovers and for anyone who wishes to find out more about tea manufacture, different categories of tea, and what types of tea come from different tea producing countries.
She also gives regular tea masterclasses and tea tastings, speaks on radio and TV and acts as consultant to tea companies, new tea businesses, table ware and tea ware companies.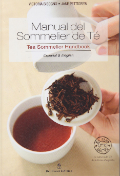 Price: £13.75
Publisher: Del Nuevo Extremo, Argentina

The Tea Sommelier is an expert in tea, highly trained in its culture, brewing, service, cupping and pairing. This handbook offers technical and cultural knowledge to achieve expertise in distinguishing the principal types and varieties of tea, the different methods of manufacture, the correct method of preparation, evaluation of tea quality, the sensory experience of tea tasting and drinking, and the ability to describe the flavour and aroma profile of different teas.