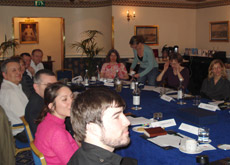 A group of tea lovers at a Tea Masterclass at the Chesterfield Hotel, London.
At the World Tea Awards ceremony on 31st May 2014 on board The Queen Mary in Long Beach, California, JANE received Best Educator Award.
RAISING MONEY FOR NEPAL
We are all very concerned for the people of Nepal since two disastrous eathquakes struck the country and are raising finds through colleagues in the US who trade teas out of Nepal and give profits back to the Nepali tea community. If you would like to help, please have a look at the webiste of Nepali Tea Traders, the company founded and run by my friend Maggie Le Beau:
http://www.nepaliteatraders.com/products/nepali-tea-restoration-fund-contribution
CLASSES
Have you ever wondered how the tea in your everyday cuppa gets from the plantation to your cup? Can you tell a Darjeeling from a Ceylon, an oolong from a white? Do you know why they're different? Come to a tea masterclass and find out more! Jane teaches regular classes with tea taster Tim Clifton.
The Course
The day course runs from 9.15am to 5.30pm and includes a wide variety of colour images, a short piece of video footage showing tea production and covers the following topics:
The history of tea in Britain
What is Tea, how and where does the plant grow
Why all teas are different, etc
The manufacture of black, green, yellow, white, oolong, pu'erh and flavoured teas
Tasting teas from each of those categories
How the tea gets from the plantation to the cup
What's available
Loose tea & tea bags - different types, advantages & disadvantages
Perfect brewing and different ways to brew
Tea and health
Price
The cost for the day is £220 and includes:
Tea through the day
Lunch
Afternoon tea with cakes, scones, clotted cream and jam
A copy of Jane's book TEA CLASSIFIED (VOTED BEST NEW PUBLICATION 2009 BY WORLD TEA EXPO)
Various useful handouts with information about suppliers, table wares, tea and health
A certificate of attendance
To book a Tea Masterclass, please visit the booking page by clicking here.
We regret that we are unable to refund payments for cancellations received less than 48 hours prior to a class taking place. We would like to make it clear that in the case of cancellation after payment, a 6% charge will be deducted from refunds to cover administration costs
The Location
Most of our classes are held at: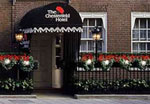 The Chesterfield Mayfair, (Map)
35 Charles Street
Mayfair
London
W1J 5EB
The Chesterfield Mayfair Hotel offers special rates to anyone attending the Tea Masterclass. The hotel offers the best available rate, and if Masterclass attendees choose to stay for 2 nights, they will be offered a complimentary Afternoon Tea. Contact: Bryony Salmon meetchch@rchmail.com
Comments from some of those who have attended
"Thank you for delivering such a terrific Masterclass - it was a perfect balance between theoretical and the practical and it was beautifully rounded off by a sumptuous afternoon tea."
"We would like to thank you and Tim for the excellent class on Saturday. Such a relaxed attitude, perfect timing and an absolutely thrilling experience. I would certainly recommend your course to anyone."
"I enjoyed the class so much. I was impressed with how much information you pack into such a short time and yet it's so much fun."
We regret that we are unable to refund payments for cancellations received less than 48 hours prior to a class taking place.
We would also like to make it clear that, in the case of cancellation after payment, a 6% charge wll be deducted from refunds to cover administration costs.
The Trainers
Tim Clifton
As one of the principal tea tasters and previously Chairman of one of London's leading tea brokers, Tim has a vast knowledge of teas, tea plantations and factories in many parts of the world. He has also, over the years, been a Director of the United Kingdom Tea Council, Vice Chairman of the International Tea Committee, and Chairman of Tea Brokers Central Africa. He now works as consultant to various tea businesses around the world, including Tregothnan Tea Estate in Cornwall.
Jane Pettigrew

From owning her own teashop in London in the 1980s, Jane has gone on to write 15 books on various aspects of tea and worked for 6 years as Editor of Tea International, journal to the Tea Trade. She has also acted as consultant to and trained staff in five star hotels and tea rooms in Britain, the USA, Russia and Italy. She speaks at conferences around the world on different tea related topics, and works on several projects with the United Kingdom Tea Council. She has appeared regularly on television and radio.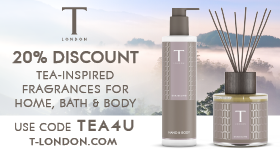 Forthcoming Masterclasses and events:
PLACES AT EACH CLASS FILL QUICKLY SO TO AVOID DISAPPOINTMENT, PLEASE BOOK IN PLENTY OF TIME.
03rd of October, 2015, Tea Masterclass (The Chesterfield Hotel, London)

9.15am lasting 8 hours

Tea Masterclass and Afternoon Tea

04th of December, 2015, Tea Masterclass (The Chesterfield Hotel, London)

9.15am lasting 8 hours
<< Book a Masterclass by clicking here >>