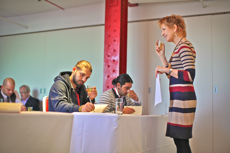 A tasting at The Beefeater gin distillery in London in November 2011.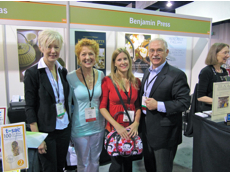 At World Tea Expo 2011, Jane and Vicky Bisogno (from the Argentine El Club del Te) with Bruce and Shelley Richardson of Elmwood Inn and Benjamin Press.
Anyone interested in buying a teashop?
Melissa Montezani is selling The Chelsea Teapot on the Kings Road, Chelsea London. For information contact Melissa on melissa@thechelseateapot.com
Jane speaks regularly at international conferences, tea parties, fund raisers, meetings of tea societies and other groups such as antique collectors, geographical societies, historical societies, etc.
The topics she talks about include:
The history of tea drinking in Britain
Tea cultures around the world
The history of tea drinking and tea wares in Britain
The tea trade
What is tea and how is it made
Tutored tea tastings
The history and etiquette of afternoon tea
Contact Jane for more information.
Latest Course and Events News
Jane will be in Madrid in March - more details coming soon
Jane at World Tea Expo Las Vegas June 2012
Jane will also be teaching a TEA 101 class, and will host World Origin Tasting Tou. She will also be hosting a focused tasting session on Korean teas. More details coming soon
Latest Video
Forthcoming Masterclasses and events:
PLACES AT EACH CLASS FILL QUICKLY SO TO AVOID DISAPPOINTMENT, PLEASE BOOK IN PLENTY OF TIME.
19th of April, 2013, Tea Masterclass (Chesterfield Hotel, London)
18th of May, 2013, Tea Masterclass (The Chesterfield Hotel, London)

9.15am lasting 8 hours

Tea Masterclass and afternoon tea

21st of June, 2013, Tea Masterclass (The Chesterfield Hotel London)
20th of July, 2013, Tea Masterclass (The Chesterfield Hotel, London)
10th of August, 2013, Tea Masterclass (The Chesterfield Hotel, London)

9.15am lasting 8 hours

tea masterclass and afternoon tea

14th of September, 2013, Tea Masterclass (The Chesterfield Hotel, London)

9.15am lasting 8 hours

tea masterclass with afternoon tea

11th of October, 2013, Tea Masterclass (The Chesterfield Hotel, London)
16th of November, 2013, Tea Masterclass (The Chesterfield Hotel, London)

9.15am lasting 8 hours

Tea Masterclass and afternoon tea