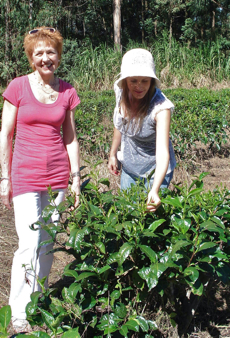 Jane with Vicky Bisogno at the tea plantations in the north of Argentina.
Jane Pettigrew is a tea specialist, historian, writer and consultant. Since 1983, she has been working in the UK and around the world to explain and share the fascinating world of tea.
She has written 13 books on the many and varied aspects of tea, its production, history and culture, and she writes for tea related magazines and journals.
She also gives regular tea masterclasses and tea tastings, speaks on radio and TV and acts as consultant to tea companies, new tea businesses, table ware and tea ware companies.
Read Jane's blogs on other sites:
Latest Videos
Forthcoming Masterclasses and events:
PLACES AT EACH CLASS FILL QUICKLY SO TO AVOID DISAPPOINTMENT, PLEASE BOOK IN PLENTY OF TIME.
19th of April, 2013, Tea Masterclass (Chesterfield Hotel, London)
18th of May, 2013, Tea Masterclass (The Chesterfield Hotel, London)

9.15am lasting 8 hours

Tea Masterclass and afternoon tea

21st of June, 2013, Tea Masterclass (The Chesterfield Hotel London)
20th of July, 2013, Tea Masterclass (The Chesterfield Hotel, London)
10th of August, 2013, Tea Masterclass (The Chesterfield Hotel, London)

9.15am lasting 8 hours

tea masterclass and afternoon tea

14th of September, 2013, Tea Masterclass (The Chesterfield Hotel, London)

9.15am lasting 8 hours

tea masterclass with afternoon tea

11th of October, 2013, Tea Masterclass (The Chesterfield Hotel, London)
16th of November, 2013, Tea Masterclass (The Chesterfield Hotel, London)

9.15am lasting 8 hours

Tea Masterclass and afternoon tea